Extending with other Plugins - example using Image Gallery & Videos
jDownloads description may contain other plugins This example adds an image gallery and video player.
The description field of a download may include external plugins.  This example will use two free plugins from JoomlaWorks, namely Simple Image Gallery and AllVideos.  We can of course use the in built features of jDownloads to display images ('screenshots') and video clips.  The purpose here is to show the use of plugins in the description field.
A whole host of plugins may be used, perhaps involving say advanced typography, tabs, sliders, and so on.  But be sure to test them as some plugins do not necessarily obey all the rules!.
As well as installing and setting up the plugins you intend to use, there are a couple of configuration steps in jDownloads.  First ensure that the jDownloads system plugin is published, this is needed for most things anyway.
The next step in to go to jDownloads Configuration - Front End tab.  About halfway down there are two setup parameters that need to be set as illustrated opposite.

  Setting the first parameter to Yes is essential.  The second parameter will limit plugins to be 'actioned' in descriptions only.
In this example the particular down load has a title '4-pics' and comprised a zip file called 4-pics.zip. It was in category images-cat, which in turn is a sub category of main_lists.  That is the download was at location  jdownloads/main_lists/images-cat/ .  Now Simple Image Gallery uses, by default, the root directory 'images'.  It also displays as a gallery the entire contents of the target directory. So to give some sense of which gallery is associated with which Download a corresponding stucture was set in the images directory, that is the following was used in this example:  images/main_lists/images-cat/ and the images were uploaded there.  The AllVideos plugin uses as its default base directory images/videos  so another directory structure images/videos/main_lists/images-cat/ was set up and the video file was uploaded there.  These uploads were not through jDownloads of course but through the editor.
The Download was created as usual but the description included the plugin calls as shown.

 
 The user view of the Download
 After clicking on an image, showing navcigation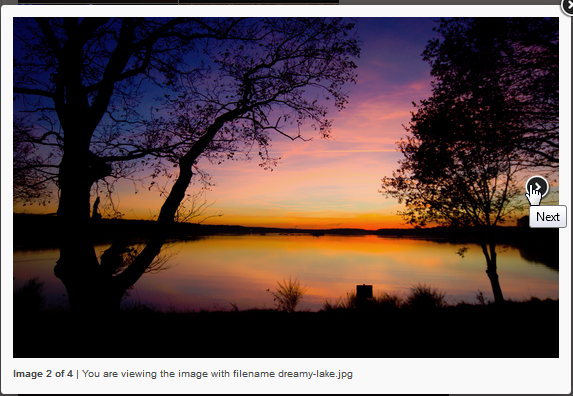 A view from the running video
Colin Mercer June 2014