Using the Auto Monitoring Function
You may easily add many folders and files to your download area by using the Monitoring facility.
The jDownloads Control Panel has a Download area status sub panel as shown opposite. When you visit the Control Panel it will give you a 'overview' report on your Download Area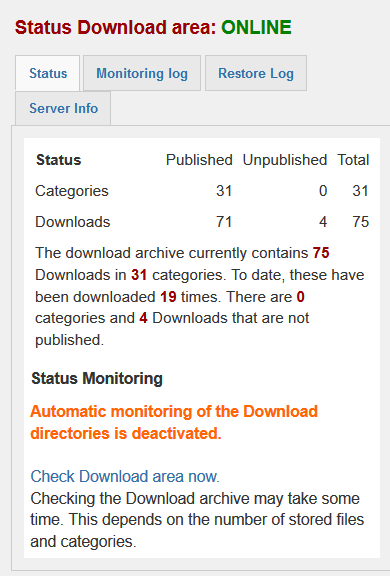 The monitoring function checks all the jDownloads categories (folders) and their downloadable files in the jDownload root directory for consistency with the entries in the databasedatabase. The jDownloads root directory is normally located in the Joomla! root directory and by default is called jdownloads. This setup may be changes in the Confiuration - Downloads tab but we would not recommend making any changesd unless you are very, very certain of what you are doing!
Automatic Monitoring may be turned on or off in the Monitoring tab of the jDownloads configuration. The default setting is Yes but I usually set it to No as it is a time consuming operation.
When activatedin the jDownloads configuration the monitoring occurs whenever you go to the jDownloads Control Panel.
If this option is deactivated then you can run it manually by clicking on: Check download area now in the jDownloads Control Panel as noted below.

Another option is to use a 'cron job' application to initiate monitoring at specific times - see Automatic Publication at Scheduled Times (Cron job) for more details
No matter which way it is activated the monitor function carries out the operations and checks given below.
It checks that all published categories and downloads exist in their upload directories.
If not, the directories or the download are automaticly set to unpublished.
If a new directory is found, it is added in the database as new category.
If a new file is found, it is added in the database as a new Download.
So you can easy add many folders and files to your download area very simply.
The first step is to Upload your folders and files with an FTP program such as FileZilla, or with a file manager component like eXtplorer, or by using your website cPanel facilities.
Note another method is to use the jDownloads Files tab in the Configuration to upload and create Downloads that way.
If you have selected Automatic Monitoring then just going to the jDownloads backend control panel will initiate the monitoring. If Automatic Monitoring is not selected then you need to click on the 'Check download area now' link. In either case a report such as shown opposite is produced.
Important:
If you want to add add many files or folders (> 500) , it isstrongly recommended to add them in more than one one step.
A sample:
you will add 200 folders with more as 3000 files
copy with your FTP program in every step only max. 500 files to your server
after every upload run the monitoring function
Tip:
When you have many thousand files, it is recommended to set the monitoring function off in the configuration.
Then the backend sites are faster loaded
You can then run the monitoring manually in the control panel
ColinM Updated 24 September 2019