Enabling comments on Downloads with Komento
Introduction
Comments may be added to a Download by using the paid Komento component to give something like that illustrated opposite.

This is a paid component and is available from https://stackideas.com/

Note: Comments only appear in the Download Details view.

Most of the setup work is in the Komento component.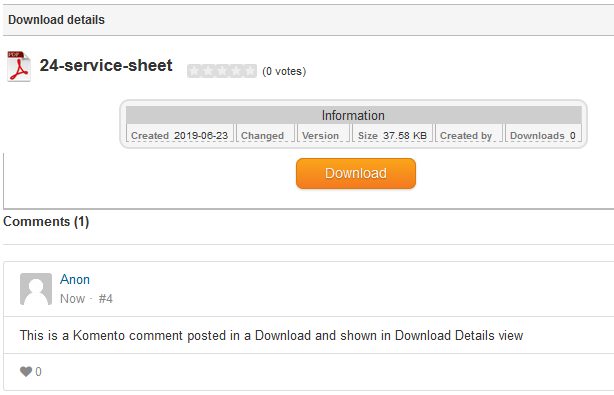 The lower part of the above view, which is shown below, is where one adds a comment.
Configure jDownloads


Because comments are only shown in the Download Details view it is essential that you also set Options - Frontend tab items:


In the Download section:
1. 'Activate direct downloading' to No;
2. 'View Download detail page' to Yes;
3. 'Use Download title as download link' to Yes.
and in the Other Options section
4. 'Activate support for all Joomla content plugins' must be set to Yes.
In the Comments section set
5. 'Support jComments' to No.
Upgrading from jDownloads 3.2 to 3.9
Komento 3.1.3 and above works with both the jDownloads 3.2 series and the 3.9
provided
that the correct version of the plugin
com_jdownloads.php
is used. If your version of Komento is earlier than version 3.1.3 then we strongly advise upgrading to the latest version. At time of writing, September 2019, the latest version of Komento is 3.1.4.
After upgrading to jD3.9 you will need to upload the jD3.9 version of the plugin as noted in the section below 'Download & Install Special Plugin for Komento'. It is also worth checking the settings in jDownloads 3.9 and those in Komento.
Komento does maintain all comments across a Komento upgrade, and of course when changing the special plugin.
Installation of Komento
The next step is to install the Komento Component. Use version 3.1.4 or later. If you are are already using Komento then insure you are at version 3.1.4 or later.

Installation follows the usual Joomla! sequence. Komento takes you through several setup steps so it is probably a good idea to look at their documentation if you are unsure.

In the Komento Backend go to Settings - General. This has most of the settings needed to configure Komento.

There are many customising options available in Komento which you may explore depending on how you want the comments to appear, so consult the Komento documentation as appropriate.

It is suggested that you check that Komento works as you require by testing on Joomla! articles before you use with jDownloads.

Please also note we are not Komento 'knowledgable' other than as shown here!
Download & Install Special Plugin for Komento>
It is essential to get the appropriate special jDownloads plugin called
com_jdownloads.plugin.php
For jDownloads 3.9 download the zip file
Downloads 3.9 series Komento plugin 0.4 for Komento 3.1.3 component.zip
from 'Special Extensions (3.9)'
(opens in new tab/window)
Extract the contents of the zip - I use the free 7zip.exe app from
www.7-zip.org
- and locate file
com_jdownloads.plugin.php
. After 'un-zipping' you should find a directory com_jdownloads which has two files: Read_me.txt and com_jdownloads.plugin.php.
The next step is to copy the file
com_jdownloads.plugin.php
to <yoursite>/components/com_komento/komento_plugins/ using an ftp utility such as File Zilla, your site control panel or a Joomla files manager extension. There will be a file with that name already at that location so
overwrite
it with the present one downloaded from jDownloads.
If you have uploaded the wrong version or forgotten to copy over the special plugin then you are likely to see a message something like:
The requested page cannot be found.
1054 Unknown column 'a.file_id' in 'field list'
Configure Komento
After checking out Komento on articles then again return to the Komento backend but this time select Settings - Integration.

Then Select the jDownloads tab as illustrated opposite.

This allows you to select which jDownloads categories are allowed to have comments made on Downloads.


The default is that Downloads in all Categories are allowed to have comments added.


Another aspect that is essential is to choose which user groups will be allowed to add and to moderate comments. This is done one user group at a time for those User Groups that are to be able to 'add' or to 'add and moderate'.
For this use the Komento ACL tab.

. This shows the list of User Groups on your site. You will need to setup each relevant User Group individually.
After selecting a User Group you will see a screen such as shown opposite with two 'Tabs', Basic and Moderation.

Each has multiple options available that are self explanatory in their use, but again if in doubt then refer to the Komento documentation. When you change a setting the text opposite only changes when you clck on the
button.

Clicking on the
Button takes you back to the User Group list.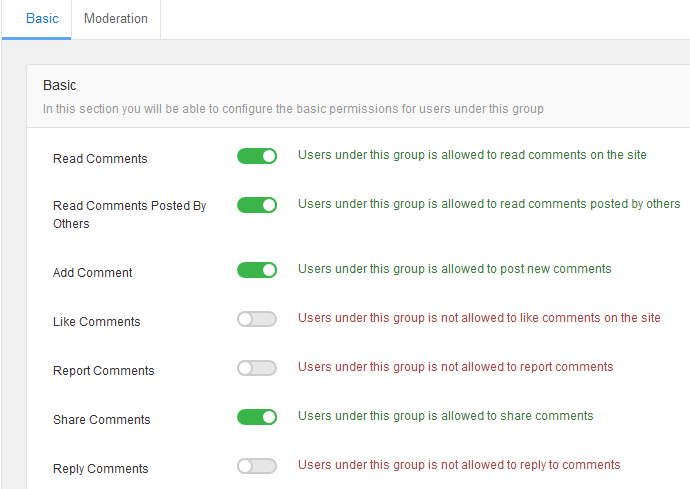 The Moderation tab has the settings for what might be called the 'Comment Manager'.

You need to set these up for each user group you intend to allow to just read or add or moderate comments.
Using jDownloads Content Plugin to refer to a Download in a comment
If you need to refer to a Download in a comment then use the jDownloads Content Plugin.

The picture opposite shows two uses of the Content plugin. One is selecting the layout. The other one refers to the actual Download.



Note The default Download layout that the Content plugin uses is specified in Options - Plugin tab or by using in the article. In principle it is a different layout to the Activated one in the Layouts -Download Details settings.


The picture opposite shows the message as users will see it.



Note

the edit symbol

is shown as the logged in user had Download edit permissions.




If a user clicks on the link they will be taken to the Download Details as illustrated opposite.

The comments are of course also shown.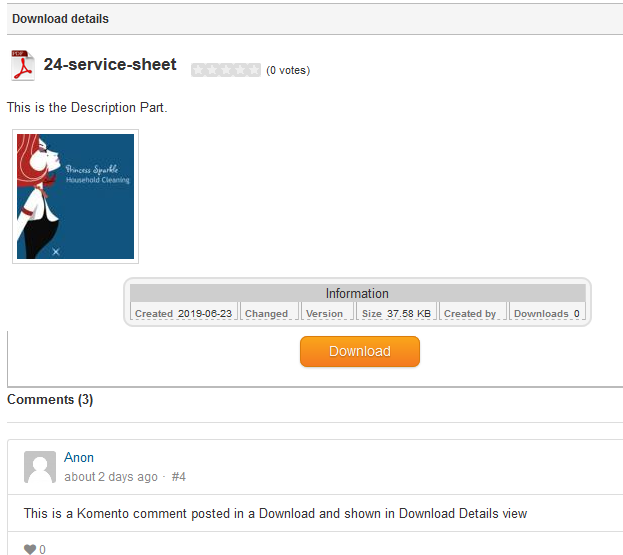 ColinM Sepember 2019, updated August 2021
Tags: index