Multilingual Modules
Introduction
jDownloads supports Multilingual Modules. In this article it is assummed you have already set up your site for multilingual Categories and Downloads.
For more information see
Article on Multilingual Support
(
opens in a separate window/tab
)
In this article we will be using the jDownloads Top module as an example. This module lists those Downloads that have been downloaded the most number of times.
Important
You will still need the default jD menu item 'List All Categories' in the regular Main menu. This may be a 'hidden' menu item.
Create Multilingual Module
The first step is to go to

and select

This will open up the admin part of the standard module as illustrated opposite.



The next step is to make a copy by using the 'Save as Copy' button.
This will create a new invocation of the module with a name such as jDownloads Top (2) as illustrated opposite.
Note that in order to display the Top Module at least one file has to have been downloaded.
Module Tab settings
1. Change the Title field to something appropriate.

2. Select the target position in your template.

3. Change the Status to Published.

4. And most importantly, select the target Language which in this case is English.

The Text Before and Text After options, which appear at the start and end of the list, both support the multilingual plugins as illustrated below.

Because we will be making a copy of this 'multilingual' module for other languages then it is convenient to add any required text for these two options as illustated below.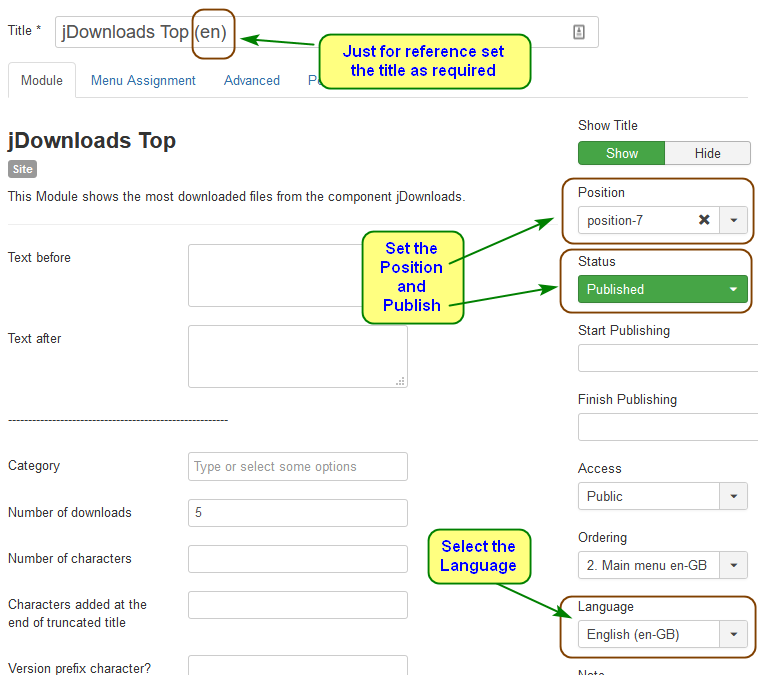 There are some optional text strings in the module tab that will require setting in the relevant language individually. These are the options:
(a) Version prefix,
(b) Label for Hits,
(c) Text between filename and category name.
Menu Assignment Tab
This is a key step as it controls which pages the module will appear upon.

First make sure that you select the option 'Only on the pages selected'.


In this example, which is setting the English Language version, then ensure that only the EN-GB menu items, as indicated with the relevant flag
, are selected.



Ensure those for any other language are NOT selected

.

Always set the List All jD Cats in the Main Menu.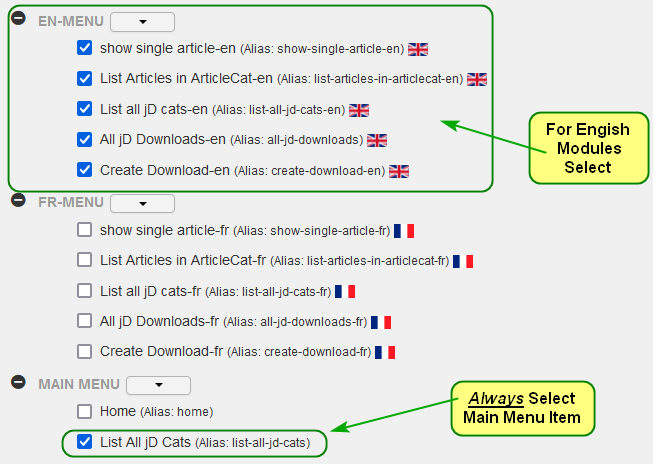 Note: If you subsequently create a new menu item then the module will not show on that page until you include it in the relevant Menu in the Menu Assignment tab.
Add Text field info
Add in all the "language plugin" information that was prepared earlier in a text file with Copy and Paste. Or you could type in directly each time!!

Then of course do a Save & Close after adjusting any of the other options in the Module tab.

ColinM December 2020 - Updated July 2021, March 2022
Tags: index