Showing Modules in Tabs
Introduction
Maximise information. Save space. Show all in Tabs!
The jDownloads modules provide a very useful source of information for users. If you are showing several modules they do take up space on the page. So which module is best to show? This is an almost impossible question to answer for all users.

One solution is to show the jDownloads modules in a suitable Tab module as illustrated here.

In this article the free Joomla Monster module "JM Simple Tabs" was used as it was easy to use. Another possible tabs module is is the free Gavick Pro module "Tabs GK5".


The view opposite show two examples of using the tabs module in the side bar.

The first one is showing the Top module and the second example is the Tree Module, which is particularly useful in the Tabs.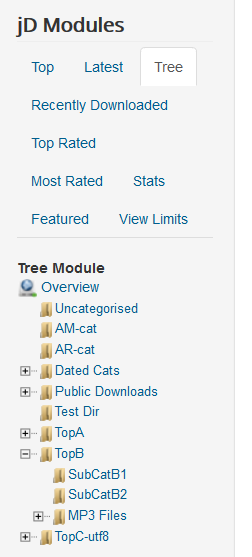 Configure JM Tabs
As noted earlier in this article the free Joomla Monster module "JM Simple Tabs" was used. Installation follows the normal Joomla! procedure.

Each Tab when created in JM Simple Tabs can be set to host a module.

To create a 'tab' just click on the Add New button.


The modules used above all show OK but the special module 'Featured Downloads' is not designed to be used in this context.


Then you need to Edit the new Tab and fill in the Title and the Content.

The Content supports HTML as illustrated opposite, the principle part is the module part.

The module has many more features including adding icons, support for Font Awesome, and so on. However this example was set up using it just as it comes 'out of the box'.
ColinM February 2019
Tags: index