Notes on MP3 ID tags
Introduction
jDownloads supports showing the ID tag information held in MP3 audio files.
Typically the Download and Download Details layouts contain a pair of lines such as

<div class="jd_preview"></div>

The first line will show the selected preview file whilst the second line will show the ID3 'tag' information if the preview file is an mp3 file.
If it is not an mp3 file then the second line is effectively 'ignored'.



The tags typically give details such as the artist, the music genre, date of production and so on as illustrated opposite.
For demonstration purposes the tool MP3tag v2.91, available from
https://www.mp3tag.de/en/
(opens in a new tab)
was used to edit the ID3 tags of MP3 files as shown opposite.
There are however some challenges as the MP3 ID tags may be in different encoding such as
ID3v2.4-UTF8
ID3v2.3-UTF16
ID3v2.3-ISO8859-1
ID3v1 (very old style so unlikely)
That is what is actually shown depends on the encoding as illustrated in the three pictures below where 3 different encodings have been used.
The utf16 encoding has a strange 'yb' in the front of some text so should be avoided.
The utf8 has missed out the year but the iso variant looks OK.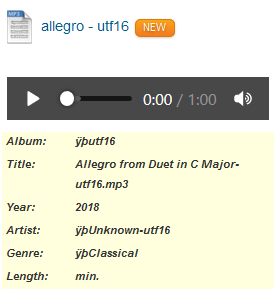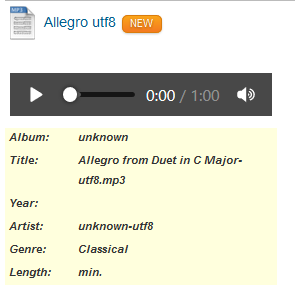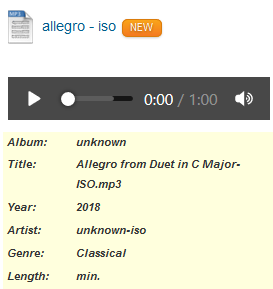 As shown opposite MP3tag has in its Options a default setting for the encoding. So if an MP3 file is saved then it will be saved using the selected encoding.
Colin Mercer - December 2018
Tags: index