Content Plugin Options
Introduction
The Content Plugin allows Download links to be shown in articles and similar.
The Content Option tab in Jdownloads Options has the basic configuration for using the Content plugin.
Essentially the jDownloads Content Plugin enables showing Downloads in Articles, Custom Modules and Download Descriptions using a selected Dowloads Layout such as illustrated in the example below.


Note that the title is a link, shown in blue text, allowing the file to be downloaded.



See the article
Content Plugin Details
(
opens in a new window/tab
) for details on using the Content Plugin in Articles and Modules
Select Default Layout

The first option 'Default Layout' allows you to select which layout to use as the default

In the example above the default Content Plugin layout was set to 'Files link only'.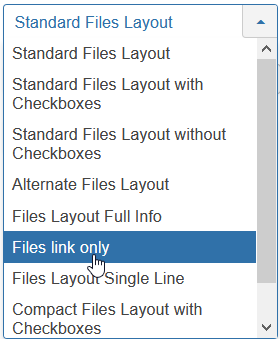 Enable Plugin locally
The option 'Enable plugin locally' is interesting. When set to 'Yes' the plugin will work as normal and show the relevant Download in the frontend view.

However if set to 'No' then other options as noted below become available.
Disabled Message
When the plugin is locally disabled then two further options appear as shown opposite.

When both the 'Show disabled message?' and 'Show the original Title' are set to Yes then the Download still appears in the article but, as illustrated opposite, the title has no link to enable the file to be downloaded.


If 'Show disabled message?' is set to No then nothing is shown and the setting of 'Show the Original Title' is ignored.
Show Original Title
When 'Show the original Title' is set to No then two further options become available.

Note that both of these text options support multilingual sites.
Title Replacement


The 'Title replacement' option allows showing a suitable message to your users indicating that Downloads are locally disabled.


The typical appearance is illustrated opposite.



Description Replacement
The 'Description Replacement' option has the same effect when you are using a layout, such as 'Standard files layout' that is capable of showing a description. An example is shown below.
Show truncated Downloads Description
The option 'Show a Truncated Downloads Description' just limits the number of characters from the Short Description that will be shown.
The only exception is that if set to zero then the whole description is shown.
ColinM July 2020
Tags: index